10 of Your first GoPro accessories.
Brought your first GoPro and want to know what accessories to start out with?
Over the years there are some mounts that I have used over and over again and I will always keep them in my camera bag when I take the GoPro out.
You can get through a lot of photos and video footage on a GoPro, especially if your doing time-lapse photography. You don't want to run out of memory or have no back up if you cards has an error.
2) Spare batteries and charger.
But there are some really good other options available on the market today.
If you don't need the waterproof protection or are doing some really long time-lapse and concerned about the batterie life you can always run the camera off a power bank.
You can buy a cage for most GoPro cameras which allow you to mount the camera and open the USB port on the side so you can connect your camera to a power bank. For some of the newer models you can buy a USB cover replacement with a cut out for the connection (these won't be waterproof).
3) A whole load of mounts, joint and extensions
Have some extra length for better angles from your mounting point
Allows you to mount your GoPro to a wide range of applications
including a tripod, mono pod, selfie stick, suction clamps etc
4) GoPro Shorty Mini Extension Pole with Tripod

For most people, this will be all you really need.
5) GoPro Flotie
If you spend time in the water, GoPro's don't float.
You will want a Flotie, even if your attaching your GoPro to yourself using a lanyard, a flotie is still recommended.
Floties come in different shapes and sizes.
If you dont have a LCD screen on the back, or don't care for the use of it you can use a back door floater.
The stick on the waterproof housing, either via tape or velcro. they do work well, however the sticky back is permanent, if you don't want it on all the time, a spare backdoor may be needed.
If you use the Hero 5/6/7/8/9 Cameras, which are waterproof, you can get a floaty case.
This surrounds the outside of the camera and allow access to the LCD screen and operation to all the side buttons.
The other options allow you to mount your camera onto different mounts/clamps etc, however if you don't need to mount your camera onto anything, this is the perfect option.
Take it with you for the photos, most will come with lanyards or carabiners, some will even have a removable bottom to store some cash or key safely.
6) Head Strap or Mouth mount.
Having a camera mounted gives to best view possible for most things, it recored what you see from your view. There are 3 popular options to choose from.
These work really well, and stick to your head nice and tight.
Only downside I find them awkward to get them on and off if you want to check footage as you go.
7) GoPro Jaws flex clamp
This is an insanely strong clamp and can attach to objects ranging in size from 0.25 to 2in (0.6 to 5cm) in diameter. You can attach the camera directly to the clamp for low-profile mounting, or use the optional neck to achieve a wider range of camera-angle adjustability.
I use this on my skateboard, car and also attach it to the paddles on my kayak and paddle board, it grips really really well.
Cheaper options are available, but don't know how well they grip compared to this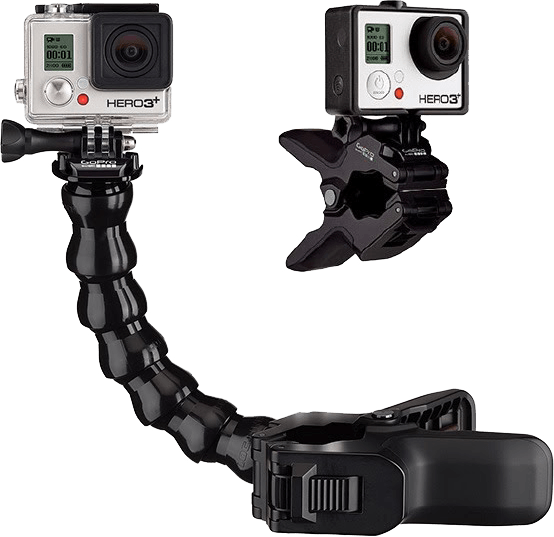 Another clamp worth considering is the Manfrotto Super Clamp, this is a super strong clamp, it may be designed for things a lot heavier than a GoPro, but it will handle most things thrown at it. You can attach the camera straight to it using the mounting stud, or a tripod head for more versatility.
8) Turnspro
Will attach directly to the top of a standard tripod, or just sit on the ground.
9) Dome
The handle can also be used separately as a floaty handle for your GoPro.
The dome port also does give a much wider effect to your images.
10) Neewer 50-In-1 Action Camera Accessory Kit
If you want the most for your money, the Neewer 50-In-1 Action Camera Accessory Kit is spot on.
Also view
5 Best GoPro camera mounts for paddle boarding